The following document was transcribed by Ian Ward on 26/09/2003 from a photocopy, which was sadly either extremely faded or badly photocopied in places. Where possible I have strived to stay true to the original text and spirit of the document. The original author of the document, at that point, was unknown to me, though I knew a distant cousin left a copy with a great-aunt of mine some years ago. It is that copy that is transcribed here. I have since been in contact with the family of the author and been given permission to keep the document online.
Comments of mine are enclosed in [square brackets].
A digital scan of the original photocopy I have is here, and a plain text transcript of this document is available here..
Aspects of Local History
Relating to the Rother Valley
and Bedgreave Mill within
The Rother Valley Country Park
By D. F. Long
Little is known of 'Early Mans' activities within the valley of the River Rother. Much of the evidence is buried and we can only speculate. From time to time some evidence is unearthed, which helps to create our picture of places, events and people within the area surrounding Bedgreave Mill.
This is an attempt to put in a reasonable order what is known about the area. The information only touches the surface of many areas of study - leaving avenues for further investigation into the Historical and Geographical development of the Rud-whr.
The Background
The River Rother is said to have had its name from Rud-whr (red water), probably from its being impregnated with iron in some parts of its channel. It rises from Rother Spring, in the village of Pilsey, and then runs to Padley Wood, by North Wingfield Church, and joins the Hipper at Chestefield flowing North Easterly towards the country park. In the area being studied the low-lying nature of the land has resulted in rich soils with pockets of marshland. The surrounding high ground has formed important routeways for settlement from early times.
The discovery of a Quern Stone at Beighton is evidence of mans earliest known civilisation in the area. Mr. G. Mirfin made the find in a ditch at Robin Lane. It is an upper quern stone of gritstone, of the beehive form suggesting a date of Late Iron Age - Early Romano-British (See fig 1).
It is known that native forest covered the area, with sheep, oxen and deer grazing among its trees. In the forest little islands had to be cleared, varying in extent from two hundred to two thousand acres, and on these were settled a few husbandmen, their families and labourers. Wales, Treeton, Todverick and Harthill are known to have been settlements of this sort.
[Figure 1, of the Rother Valley Quern Stone.]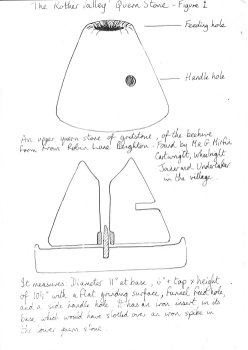 There is evidence of Roman occupation at Killamarsh. A ditched site at Kiveton has yielded pottery (from about 100 AD) together with a corn-drying kiln and the bones of domesticated animals. This site was alongside a Prehistoric Road - Packmans Way. This ancient road survives in part as country lanes heading north along the crest of the Magnesian Limestone as directly as the topography allows. The road has been adopted by the local parishes of Wales, Harthill and Thorpe Salvin as a parish boundary (see fig 2). Joseph Hunter (1828) described a minor road between Harthill and Thorpe Salvin as an old Roman Way called The Street. This is known as Packman Lane today. The Roman Road known as Ryknield Street passed through the area on its way from WallLichfield to Templeborough on the Don. It was of major military importance. Its alignment is fossilised by Pit Lane, Eckington, and a green lane from the Moss [Mass?] Brook, some 250 metres west of Eckington parish church. A projected line from here brings one to Street Fields, Mosborough. The road continues north-east to the north of Beighton railway station where sections of metalling were revealed in 1847 (Hunter 1869). This alignment, thought to continue through South Yorkshire to Templeborough, alternatively could be heading north-east towards the forts at Doncaster or even Rossington Bridge.
[Figure 2, of the prehistoric road Packmans Way. ]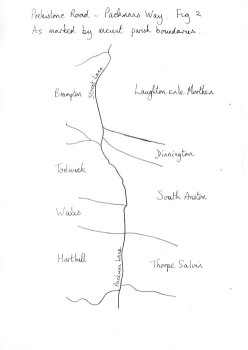 Saxons, then Angles, occupied the area and it is they who gave names to settlements such as Trétún [Tretun, with acute accents on the 'e' and 'u'] from the old Norse tré [tre, with acute on the 'e'], wood and tún [tun, with acute 'u'], a homestead or house. Apparently Treeton village near Handsworth [something faded and impossible to read] [...]dhouse seems to have been obtained from a woodhouse built there before the Norman conquest. Walese became Wales/Waleswood and one of the manors of Chinewoldemarese (Westthorpe) was later owned by Hugh son of William de Kinwaldmarsh (Killamarsh). (See fig 3) The base of what is thought to be a Saxon Cross may be seen at St Giles Church, Killamarsh. It is more likely to be a medieval cross. Square-headed axes appear on stone graves slabs at Killamarsh - medieval.
[Figure 3, Lords of the Manors at Chinewoldemarese. ]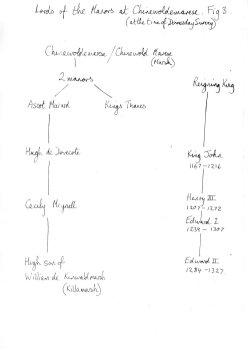 The border between Mercia and Northumbria passed through the Park following the course of the County Dyke. Part of which still exists. In 827 AD Egbert, King of Mercia, and Eanred, King of Northumbria chose a place to the west of the Park where they settled matters and declared Egbert King of England - at Dore [Dose?]. From the Anglo-Saxon Chronicle, 827 AD :- "In this year the moon was eclipsed on midwinter mass night; and the same year King Egbert subdued the Kingdom of the Mercians and all that was south of the Humber; and he was the eighth King that was Bretwalda. And Egbert led an army to Dore against the Northumbrians, and they offered him obedience and concord, and thereupon they separated."
The battle of Brunenburgh in 937 AD may have taken place in and around the Rother Valley. Here, Athelston, King of Wessex and Mercia defeated a combined army from Northumbria, Ireland and Scotland. Much of the evidence is conjecture and derived from place names, for example, Bedgreave means "bed-grave" and Birley "Burgh law" (a burial ground near a fort). The enclosure of Guilthwaite Common to the north of the Park revealed a considerable number of spurs, stirrups and battle axes which may be relics of the battle. A lane leading from Killamarsh to Bedgreave was for many years known as Battlefield Road and a short distance away is the village of Laughton-en-le-Marthen, Marthen meaning "the slaughter field".
The majority of the charters before 1066 show the English Kings granting lands to English laymen and clergy. Perhaps the most important of these was Morcar of Burton Abbey - which received its Charter in 1002. In the same year he was granted land at Betune - Beighton. Further lands were granted to Morcar at Eckington in 1012. The king at this time was Aethelred. Morcar had previously been bequeathed lands by his kinsman Wulfric Spot [Spat?] in about 1002-1004. Morcar, a Thane, was murdered by ealdorman Eadrie in 1015 at the great assembly in Oxford.
NB. Burton Abbey was Benedictine.
The Domesday Book of 1086 refers to a mill on the river in the parish of Treeton. [Another source, the Environment Agency, in document "Domesday to the dawn of the New Millenium : 900 Years of the Don Fishery", places the completion of Bedgreave mill at around 1100 AD.] Bedgreave is in the parish of Treeton - a very early reference to Bedgreave Mill? Possibly! The church is also mentioned in the Domesday Book and like many in the area has Norman features. During restoration of the Church in 1892 Mr. George Webster discovered a childs coffin close to the buttress of the Brampton Chapel (See fig 4). It was without a lid and contained no bones. It was filled with dirt. It was found about 15 cm below the surface of the ground, and in the foundation of the wall. It lay on its side with its opening into the church and head pointing eastwards. It was in one of the oldest parts of the church. Mr Addy in his book 'The Hall of Walfheof' believes that this is a symbol of the foundation sacrifice or an actual sacrifice. The bones of a small child could hardly escape dissolution over such a long period. Evidence for such sacrifices can be found within the work of Dr Tylor and Mr Gomme. Even in such sacrifices had ceased to be made at the time when the church was made, the position of the coffin nevertheless shows that children were once built in alive in England to ensure the stability of churches or other buildings. The position of the coffin also shows that it couldn't have been a 'bond stone' or a piece of earlier work made use of by the builder in erecting [...]
[Figure 4, showing the childs coffin in the church foundation. ]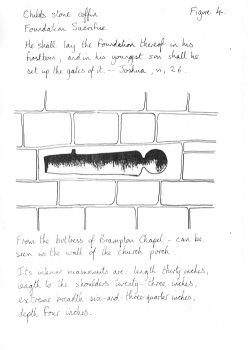 [...] the wall. The coffin can be seen in the side porch where it has been set into the wall of this addition to the church.
Other churches in the area have the following signs of Norman influence -
Wales - St John the Baptist - a Norman South doorway - reset - Chequer-patterned tympana (space between lintel of doorway and arch above) with ZigZag pattern and roll-moulding on internal arches (see fig 5).
Thorpe Salvin - St Peters - Screen and most interesting Norman font. The carvings around the font are of the changing seasons of spring, summer, autumn and winter, with a baptism scene - Sowing, Harvesting, Hunting and Riding, Man warming legs by a fire (See fig 6)
Beighton - St Marys - [some text appears missing here]
In the area of Chinewoldemarese (West Thorpe) at the time of the Domesday Survey it is known that there were 2 manors, (See fig 3). Their history can be followed through the Middleages. At a later period there is no other record of the manors. At this time the farmers were compelled to grind their corn at the Lord's mill. Early field systems have been located on Smarson's Hill Anston [should this say Aston?] and there is evidence of ridge and furrow farming in Rother Valley Park near to Killamarsh. Recently the Mill at Bedgreave was owned by Lord Yarborough, Lord Farnborough and Lord Conyers [Canyers?] of Wales - village to east of Park.
In 1631 the mill at Bedgreave was mentioned in a family settlement of the Darcy family. The inclosure award of 1768 mentions a new mill pond at Bedgreave. Little of its early history is known.

Record of Millers:                                 Source
  1833 - George Rob [Rol?]                         Whitaker
  1838 - Joseph Stacey                             Thomas Butler Whites Directory
  1841 - Joseph Stacey                             Census
         helped by John Mallinder
  1868 - Isaac Fairburn                            Whites Directory
  1881 - James H Dawson                            Census
         with wife Mary Elizabeth Glover
  1882 - J.H.Dawson died
         Williamson and Eleanor Glover brought
         their family to help daughter Mary Elizabeth.
       - Edwin Dawson (Ted)
         with wife Emily Wilson (died 1912)
       - Edwin Dawson
         with wife Lucy Nicholas
  1930 - Edwin died
         Coal Board purchased Bedgreave
  1940's - Edwin Mallinder
  1950's - Scrapman
         - Mrs Evelyn Webster last occupant of farm house.

Other events in the valley surround the development of transport links for the movement of local products. The underlying rocks of the coal measures were to make this an important area for coal, iron and steel. Kiveton pit opened in 1865.
In 1777 the Chesterfield Canal (46 miles) was completed. It follows the line of the Rother and provided transportation of coal and iron in large quantities to the River Trent. Coal mining quickly developed and deeper pits were sunk into the rich seams beneath the surface. Coal was easily won from the hillside behind Bedgreave Mill, supplying domestic needs.
In 1840 the Midland Railway built the line from Rotherham to Derby and in 1849 the Manchester, Sheffield and Lincolnshire Railway opened its line from Sheffield. The impact on communications and transport was immense. Road and canal were displaced and the industry expanded and developed much more rapidly.
Many more mines were sunk throughout the area, each with its own railway connection to the mainlines. Steel manufactured in Killamarsh was used in the construction of the first trans-atlantic telephone cable in 1866 and the fine quality of steel products was becoming recognised throughout the world (See fig 6).
We can only dress the few facts we have on the area with the help of our imagination to develop a more complete picture of life before the NCB's open-cast activities. Memories of people connected with Bedgreave Mill help our imagination. One family - the Glovers, and their descendants have recorded some of the stories concerning characters and events relating to life around Bedgreave. The family tree shows how the characters and stories surrounding the Mill are linked (See fig 7).
They were a family with a history of milling at Beighton and Halfway. Their involvement at Bedgreave Mill came about through marriage into the Dawson family and the unfortunate death of the Miller.
The Family
Williamson Glover and Eleanor are recorded as corn millers in the village of Beighton at the 1881 census (See fig 8). Williamson came from a family of millers. Brother Joseph had the mill at Halfway and he worked at his cousin Joey's mill at Beighton. This mill stood near the Railway Inn on Rotherham Road and caught fire in 1897.
[Figure 7, a family tree of the Glover family. ]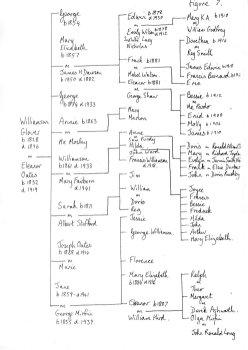 [Figure 8, 1881 census image of the Glover family. ]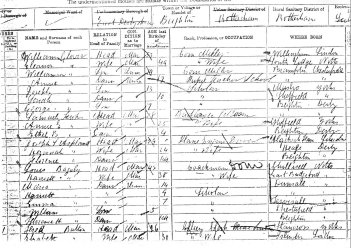 [1891 census image including Annie and Joseph Mosley]
[1891 census image of Williamson Glover (junior)]
[1891 census image of Williamson Glover (senior)]
[Transcripts of the above 1891 census data for the Glovers/Mosleys]
[group photograph featuring Williamson Glover b1861 d1933, at Joey Glovers Mill, Beighton. ]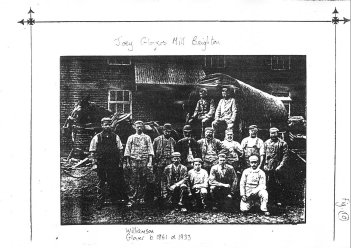 They had 8 children. Five were still at home - George Born 1854 had died. Son Williamson was also recorded as a Corn Miller at Beighton. Daughter Mary Elizabeth married James H Dawson of Bedgreave. When James died in 1882 the Glover family moved in with Mary E. to help run the mill - she had 3 children - twins Eleanor and Frank aged 1 and Edwin aged 4. Williamson died 1896 but Eleanor lived 37 years at the mill - a tall gentle old lady in a white lace cap and shawl - see collection of photos.
Mary Elizabeth Glover married to James Henry Dawson, of North Scarle and Eagle, on the Trent. They are recorded as corn millers at the 1881 census (see fig 8) - Bedgreave. James took on the mill when he returned from India with the army. The mill was still waterpowered. When Holbrook Pit took his water away they were forced to supply him with coal for a steam powered engine. At 32 years of age James died of a stroke when working in the mill. Mary and James had 3 children - Eleanor (Nellie) who married Mr Shaw from Winsford in Cheshire - they took their family back to Cheshire. Frank who bought Warsop Mill - his son Eric still runs the mill for feedstuffs. And Edwin (Ted) - miller at Bedgreave until his death in 1930. His first wife - Emily Wilson was a school teacher at Wales - She died 1912 leaving Ted with a 15 year old daughter Mary. Emily had been taking part in a church production, but was not released from work to practise. On the sound of the bell she ran from the school, cutting across the Vicarage garden. She tripped over a tent-peg and injured her left-arm. This was taken off by surgeons Graham Simpson and Garrick Wilson at Sheffield Royal Hospital. Emily died of Sarcoma Cancer. Mary (daughter) went to live with Aunt Julia and Charles Ashley in Wales. She visited the mill regularly and married Mr William Godfrey from Wales - his father was a hauler of coal. Mary K A. Godfrey still has many fond memories of Bedgreave Mill. Ted continued as miller - having many housekeepers to help with domestic chores. Later Ted married Mrs Nicholas the housekeeper. She had a son Tommy Nicholas. Ted and Lucy had two sons Bernard and Jim, and a daughter Dorris [Dorric? Dorrie?], who married Mr Reg Smith of Manor Farm - his brother had a farm on Jonny Cauldrells [?] Lane.
| | |
| --- | --- |
| [Group photo of George Glover b1874, Edwin Dawson 1878-1930, Frank Watson, Emily Dawson (Wilson) 1878-1912, Eleanor Glover 1832-1919, Sarah Stafford, William Stafford, and Jimmy Stafford, and photo of Mary K A Dawson b1910. ] | [Photographs of Mary Elizabeth Dawson (Glover) b1857 and James Henry Dawson 1850-1882. ] |
| [Photo of Edwin Dawson 1878-1930, Lucy Nicholas (2nd wife) and son Tommy, and photo of Edwin and Lucy's children. ] | |
| | [Photographs of a Governess with Enid and Bessie Shaw (born 1908 and 1912 respectively), and of Eleanor Glover (b1832), Eleanor (Nellie) Shaw b1881, Mary Glover (Polly), and Molly Shaw b1906. ] |
| [A postcard (and transcription of the awkward handwriting) from Mary Elizabeth Dawson to Sarah Stafford. ] | |
| [photographs of Williamson Glover b1828 d1896, and the Marquis of Litchfield. ] | [Photographs of Eleanor Glover (Oates) b1832 d1919, Williamson Glover 1828-1896, and Joseph Glover. ] |
Jane Glover married George Mirfin and lived in a lean-to opposite the old George and Dragon Hotel in Beighton. He was a cartwright, wheelwright, joiner and undertaker. He built new workshops and houses at the bottom of Manvers Road. George built the footbridge over the Rother between Beighton and Bedgreave. It was a simple narrow structure. He and his brother-in-law George of Bedgreave built extensions to the mill at Killamarsh. He owned fields down to Queens Road and off Station Road. Jane and George had 6 children - Williamson died as a baby. Mary Elizabeth died during the first W.War of diabetes. George returned from the war where he had a reputation for handling frightened horses. He repaired gun carriages at the front. His sister Florence managed the kitchens of several wealthy gentlemen in London. One was the famous Sussex cricketer K.S.Raryiksinkyi [Rasyiksinkyi?], partner of Killick 1910. He was very fond of Florrie and gave her a signed photo of his team when they played Yorkshire. Jessie was a school teacher at Beighton Infants School when Miss Tuinmins [?] was the headmistress. Jessie took part in local pantomimes and had holidays on cruise ships in the Mediteranean Sea. Eleanor married [...]
[Photos of George (1810-1881) and Elizabeth (1821-1890) Mirfin, George Mirfin (1855-1939) and George Mirfin. ]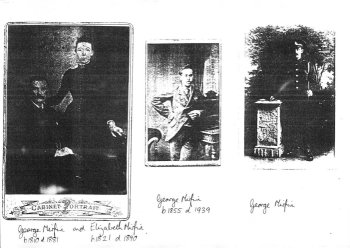 [...] Mr William Hird who was Chief Clerk at the Victoria Railway Station Sheffield. They had 2 daughters, Olga Mirfin and Margaret. Their son Ralph continues the family business after serving in the navy.
Williamson Glover married Mary Fairburn (Polly) - his cousin. He worked as a corn miller at Joey Glovers Mill in Beighton (see figs 8 and 10) with his father. Polly's sister Eleanor was married to the Licensee of the George and Dragon Hotel, Beighton, a Mr Harry Hutton. When they left to take the Marquis of Granby at Bamford Derbyshire, Williamson and Polly took the 'George' (see fig 11). They had 3 children, Hilda, Annie and Francis Williamson. Polly reared ponies and showed them locally. Francis (Frank) used to ride Jonny the grey pony in processions and carnivals in fancy dress at Whitsuntide in the village. Mr and Mrs Glover used to visit Bedgreave in their pony tub [?] or trap with a grey horse Birdie. Frank was killed in the 1914-18 war just before the armistice. Hilda Glover married John Ward a joiner at the 'Salt house' making ammonium sulphate for export during 1914-18 war. He was an athlete and footballer who lived with relatives in Woodhouse. There is a road named after him [ John and Hilda would be my great-grandparents - but sadly the story about the road being named after him appears to be just that, a family story. Enquiries with the council to determine the truth or otherwise of this indicated the road was likely named after a different John Ward, a local builder. ].
When Williamson died Polly kept the 'George'. During the 2nd W.War a land mine dropped near the railway and River Rother. It blasted the front of the Hotel breaking windows, shredding curtains and damaging the interior - bottles of spirit were untouched but the shock killed Polly 2 weeks later. It was said a direct hit on the railway would have wiped out the village. Annie married Mr Purley.
Annie Glover (the image of Jane) married Mr Mosley the Stationmaster at Hull. He was an inventor in the early days of electricity. The invention of a massage vibrator is attributed to him. They had 2 daughters Marion and Mary. Mary went to the Royal School of Needlework, London. She worked for Chilpruf until the outbreak of W.War 2 when she made paras [porac? parac?] for the war effort. Mr Mosley had 2 brothers. One was Stationmaster at Cleethorpes - he married Polly's sister Sally Fairburn. A photo of Annie and a group of school children are displayed on the wall in Crystal Peaks - she was a teacher at [some text seems missing here]
Joesph Oates married Marie an Opera singer, pantomime artist and pianist from Bradford. They used to visit Polly regularly. Marie told fortunes.
[Photographs of Hilda Ward (Glover) (my great-grandmother) and Mary Mosley. ]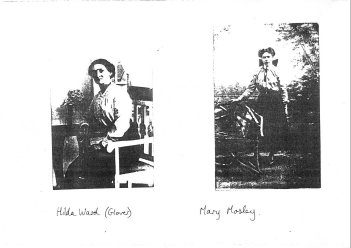 Sarah Glover (Aunt Sally) married Albert Stafford (Engineer). They met when he came to work on the iron bridge crossing the River Rother at Killamarsh. They lived in the red brick cottage at Bedgreave - with their 3 sons. The house was crammed with furniture and a piano. Albert played the violin. Jim was killed in the 14-18 war. When Sarah and Albert went to live in Bromsgrove with son Reg, William (Billy) and his wife Dorris lived in the cottage. Later they emmigrated to Australia. Sarah and Albert continued to travel the country - wherever his work took them (See fig 12). M E Dawson sent them a card showing the mill in 1905 - to Cardiff.
George Cates Glover lived in the top of the farmhouse at Bedgreave looking out to Swallownest. He lived through many changes at the mill. He was an engine driver for the L.N.E.R. and as well as helping round the mill he worked for his brother in law George Mirfin. He nearly drowned one foggy night when he was returning from Beighton. George missed the bridge near the farm.
---
Additional notes
There was probably a small homestead at Beighton towards the end of the Iron Age
The Romans introduced the Flat quern in about 50 AD
The beehive quern is probably from about 25 AD and shows sign of its use to grind corn. The base of the upper stone has an iron insert to take an iron spike which was set in the lower stone (unfound).
It was taken to the Museum in Sheffield in the Early 50's by J.R.Long.
---
[Pictures of Bedgreave]
[These are pictures in the document that while not labelled as such I have since been able to identity are of Bedgreave Mill itself. Clearer versions of some these pictures are also available elsewhere on the internet, and some of them reproduced later in this transcription, but the 'originals' from the transcribed document are included here for completeness.]
---
[Transcribers Appendix]
I take the liberty here to add other info on Bedgreave Mill I've come across. My thanks go to Gareth Horne, a countryside ranger at Rother Valley Park, for providing some of this additional information for me.
The Enviromnent Agency document, "900 Year of the Don Fishery", chapters 1 to 2b and 3a to 4b, states that there was a mill first built at Bedgreave in 1100 AD. There is a building still (barely) surviving in Rother Valley Country Park, now called the "Old Mill", which consists of only four walls and lacking any remaining roof, which may be this original mill. Astute readers may note that the earlier Bedgreave document here transcribed mentions a mill in the parish that may or may not be Bedgreave as early as the Domesday book in 1086 AD. The truth of when the mill first came to be is largely academic for purposes of family history and here left as an exercise for the interested reader.
The mill from at least the mid 1800's onwards was a different building. The machinery itself is said to be good quality late 19th Century ironwork. The mill stopped working in approximately 1947 (the steam engine that had powered the mill since the river was diverted many years before froze up and was never repaired). By the 1960's it was derelict. Sometime after it was adopted by Rother Valley Country Park and restored as a visitor centre. It has a public display on its' milling history, reproduced in the photographs below (my thanks to Gareth Horne for providing them).
Mrs. Mary Godfrey, mentioned here in the Bedgreave document, lived in the associated mill farmhouse at least up to 1992. She has since passed away, and the farmhouse is now the Rother Valley Park parks office. She had a son, Christopher.
My personal connection with the family described in the document is through John Ward and Hilda Glover, my great-grandparents. John's parents died when he was relatively young, causing him to move from Derby to live with relatives in Woodhouse. Sadly the story in this document about the road being named after John appears to be just that, a family story. While there is indeed a John Ward Street in Woodhouse, enquiries with the council to determine the circumstances behind its naming indicated the road was likely named after a different John Ward, a local builder.
Finally, more information on Bedgreave Mill is also available at TreetonWeb.
---
[Additional Pictures and Images]
NB. These photos and images are used without permission of their relative copyright owners and no challenge to the legal status or ownership of them is either implied or intended by their use here.
[Picture of the Dawsons at Bedgreave, with Bedgreave Mill & Farm (on right), 1890]


[Bedgreave Farm & Mill, photographed from Meadowgate Lane, Beighton, 1940. This resembles Bedgreave image 1 from the document, above, but seems to have been photographed closer.]


[East side of the wheel house at Bedgreave Mill, 1940. Compare this to Bedgreave image 2 from the document, above.]

The following pictures were taken by photographer Paul Eggleston in September 2001. They come from the English Heritage site "Images of England", which hosts photos taken of Englands listed buildings. Bedgreave Mill is a Grade II listed building. Additional information on the buildings is available from the Images of England site by following the text links provided.
(The use of these images here is not intended to imply any challenge to the legal status or ownership of them by Paul Eggleston or English Heritage.)